WinFlash, especially WinFlash Educator, contains a complex array of functionality. For the new user, this can be a confusing learning experience - finding the right option amid the dozens of entries in the menus and option settings.
Let's say you want to learn how to make your pairs appear in random order while studying. How should you go about finding and setting this option?
1. With WinFlash running, open WinFlash's help file by clicking on the first item in the Help menu on the main window - Contents. You can also just hit the F1 function key. This should bring up the following window (reduced in size below to save space):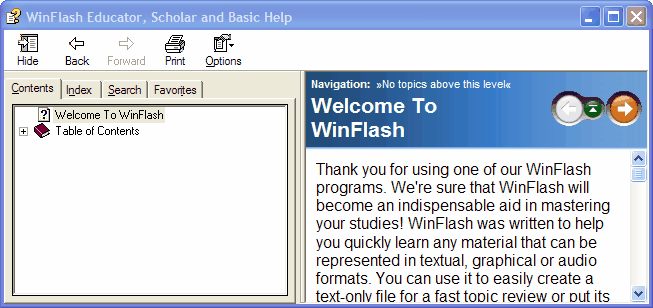 2. Click on the Search tab and type the word 'random' into the search box. Then click the List Topics button, bringing you to the screen below: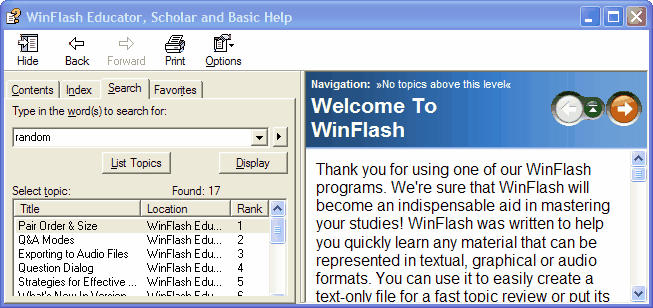 3. Double-click on the first entry in the topic list, Pair Order & Size and note the entry in green at the top of the page that you are taken to - Main|Options|Pair Order & Size. This is the key to reaching the functions described on the page when you're using WinFlash. It means "In the WinFlash main window, click on the Options menu and then select Pair Order & Size from the drop down menu that appears."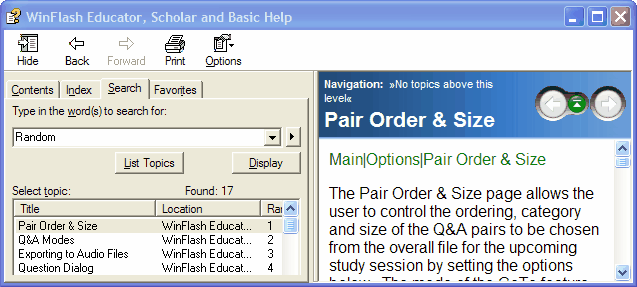 4. This page, which is ranked the highest for the word 'random', DOES contain the description of the option you want. Scroll the page until you get to the highlighted use of 'random' that matches what you're looking for: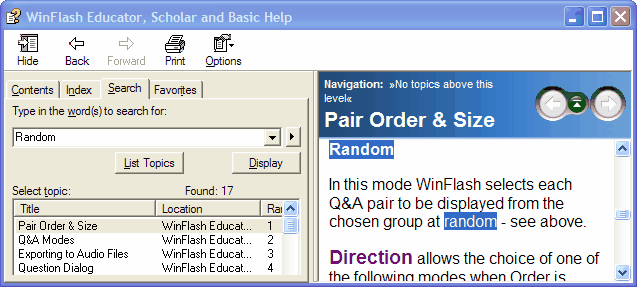 Now you've found the description of the option you want and you know how to get to the dialog in the program that lets you control it. You can now open your study file, select Options on the main menu, click Pair Order & Size from the drop-down menu that appears and view the dialog below that lets you set 'Random' as the order to present your pairs for study.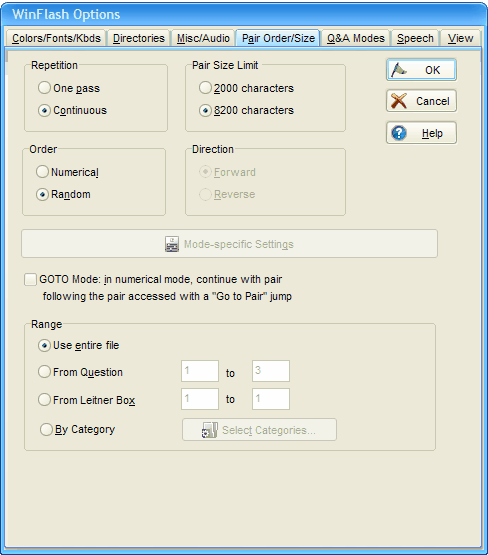 ---
Page url: http://www.openwindow.com/helpfile/using_winflashs_help_file.htm